Come in, come in, pull up a chair, grab a glass of punch and a cup cake - you can snap on one of those party hats too (don't worry, they look ridiculous on everyone!) - and join the party! There's even a game to play at the end!
Today is the official publication day of Demon's Revenge so it's a day to forget about marketing, social media, book reviews, grammar and spellings, where all the readers are and all those other billion and one little niggles so beautifully supplied by our old friends Fear and Doubt. Today is the day to feel a little bit of pride as another year of work gets its coat buttoned, a quick kiss on the cheek and then gets launched into the wonderful world of books.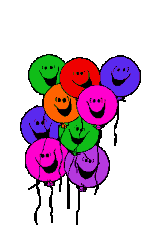 To everyone who's chatted on Twitter, gabbed on Facebook, shared links and lives, given support when it was needed, cheered every word along and STILL wanted to read it at the end - big thank you!
I'm not going to post loads of links here - they're elsewhere on the blog and on the website. Instead, I'm going to invite you to play a game...and win some prizes! Yes, yes, don't get too excited...I'll reveal all as soon as you're sitting back down again. That's better - you're getting a bit unruly on that punch!
So here's the game...
It's called 'Famous First Words' and, as you might expect, it involves books!! If you click
HERE
you'll get the list of first lines from some well-known books. All you have to do is leave a comment on this blog to let me know that you're taking part,
email
the answers to me and I'll enter you into the competition. Simple!
So what are the prizes?
Since we're celebrating the launch of my new book, I'm giving away 5 bundles of the Emily story so far - books 1(
Demon's Daughter
) and 2 (
Demon's Revenge
) in the series in eBook form (via coupon on
Smashwords
). I'm also giving away some hand-made silver bookmarks with angel wing charms to 5 runners-up. All the names will go into a hat a week from now and I'll get my kids to pick out the winners. Your name goes into the hat once for leaving a comment here, once for emailing the correct answers and again if you 'Like' my
Facebook page
or
follow me on Twitter
within the next week.
Good luck and thank you so much for stopping by!